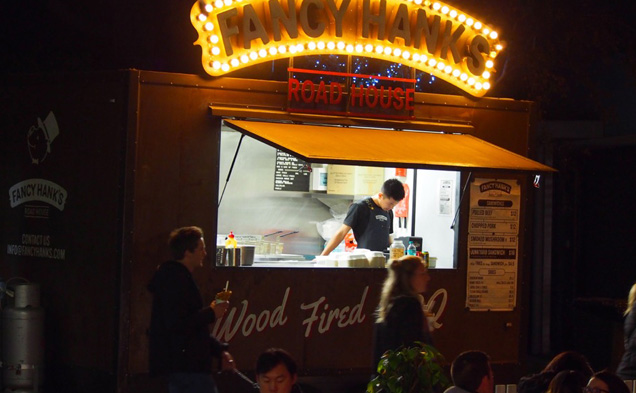 Winter is Coming!
Forget that, it's probably here by now. And if you find yourself beyond the Wall, in Coburg that is, you might fear that you come to a rather cold and desolate place. However, there is a beacon of light and warm foodie haven you can turn to…
The popular Batman Night Markets are presenting their new programme for June and July, Winter Nights. Walk under the arch at 14 Gaffney Street and you will be immediately entranced by the sounds and smells of some of Melbourne's best international street food vendors.
How about some Turkish gozleme, with lamb or spinach and fetta from European Barbecue? Eastern Bloc Catering's traditional Polish pierogi with sour cream and speck are not to be missed. Poutine anyone? Le Petit Montreal has you covered, with extra gravy of course. Two Men and a Lemon serve up some lightly crumbed salt & pepper calamari and there may be "The Musselini", Italian Mussels in a rich tomato sauce with Oakdene Pinot Noir, Istra chorizo and fresh oregano from The Love Mussel. Carnivores feel very much at home with Street Feast's pulled pork sliders, T Rex Bar-B-Que's beef spare ribs or Marinade' slow-cooked lamb.
For the dessert lovers Lukumades add their take on the traditional greek doughnuts with delicious flavour combinations like classic honey, Nutella or vanilla ice cream with sour cherries. More Nutella? Head over to Crepe Idea and order a Nutana, a French crepe with Nutella, peanut butter and banana. You also can't go wrong with a Mexican ice-cream from ChillBro Paletas, a personal favourite is the coffee-mocha variety. Think frozen tiramisu on a stick…
The menu seems sheer endless, Brazilian, Lebanese, Indian or Malaysian street food, lamb spit, momos or hot dogs, you name it. Each Winter Nights Market hosts around 30 different stall holders and street vendors, ticking off every foodie's wish list. Find your favourite dish(es) and grab a seat next to the gas heaters in the Public Bar beer garden to enjoy a local Coburg Lager or wine. Or if iconic '60s cocktails are more your style just order a White Russian.
It seems that Melbourne just can't get enough of its colourful summer and winter night markets, and Batman Night Market's Winter Nights gives Melbourne's North its very own food truck festival – sitting nicely alongside famous southern cousins like the Queen Vic Night Market or Welcome to Thornbury.
Winter Nights are a place to catch up with with friends, spend time with the family and discover a slice of Coburg. The event is held each Saturday evening throughout June and July, from 4pm to 9:30pm.
It's not all about the food though, Winter Nights also hosts some of Melbourne's best local musical talent and there will be plenty of live latin, funk, soul and jazz tunes to keep away the winter chill. ARIA-nominee Oscar Jimenez, award-winning dancers Tap.Jack, Latin stars Funalleros and bands like Malcura, Opal Ocean, Jawa Pitu and Clusterfunk will have you up and dancing. Perhaps not a bad idea before we get another serve of egg waffles or doughnuts…
Winter Nights shapes up to be another unique event, think food lover's paradise, licensed bar, live music venue and eclectic arts and crafts. 15,000 Melburnians have already enjoyed the vibrant atmosphere and community spirit of Coburg's Batman Night Markets in the past two months – it's time to join them and find out what's really beyond the Wall…
Winter Nights are held at 14 Gaffney Street in Coburg, every Saturday in June and July, from 4pm-9:30pm. Entry is free and you can even bring your pooch along. For more information visit batmanmarket.com.au